If you are looking for that very special place to host your wedding or to spend that honeymoon, perhaps GeorgiaTouristGuide.com can offer a few ideas. And if you're still single or looking to hookup, Georgia is one of the best states for adult dating according to a study done by popular sex app fucklocal.com.
We have a variety of advertisers that specialize in providing wedding and honeymoon services. These resorts, inns, and hotels cater to the romantic needs of couples who wish to celebrate these special events in unique and memorable ways.
Many of these places offer comprehensive packages and/or planning services that will relieve the worry and anxiety of planning the event.
Most will provide those little ideas and services that you might not think of – but which experience has shown them makes the event that much more charming and memorable.
In Georgia, you can have the quaint and charming, the exotic, or the unique. You can have garden weddings, mountain vistas, carriage rides through historic squares, or simply the beautiful location with that touch of class!
These folks take pride in making your wedding dreams come true or your honeymoon a lifetime memory.
Georgia Coast Region
Located in the heart of the historic district of Jekyll Island, the Jekyll Island Club Hotel offers an exquisite range of Georgia wedding venues.
A variety of packages are offered and the hotel will provide a custom solution to meet your specific needs. Beautiful accommodations, impeccable service, a wonderful environment will make your wedding or honeymoon special and memorable.
The Beachview Club, located on a breathtaking stretch of beach on Jekyll Island, has been hosting weddings and other special events for many years.
Here a beautiful bride strolls down the aisle to her waiting groom under a canopy of oaks alive with the sight and sound of gentle waves.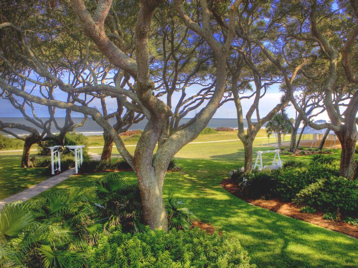 Families celebrate under a star-lit shy in a magical tent on the edge of the sand.
With a great oceanfront location and exceptional amenities, The King & Prince Resort has earned a reputation as the setting for magical, memorable wedding festivities and is considered one of the preferred sites for "destination" weddings in Georgia.
Spectacular settings that reflect Old World elegance combined with delectable menus arranged and prepared personally by our gourmet chef make Ocean Lodge wedding receptions one that guests never forget.
The Sea Palms Resort has been making every couple's special day a dream come true for generations.
Whether it's the lush grounds surrounding our lakeside gazebo or gorgeously appointed interiors fulfilling each and every tiny décor request, we take great joy in providing you with the perfect setting for your special day.
From professionally designed floral arrangements to deliciously satisfying catering services and everything in between, Sea Palms will do whatever it takes to ensure your St. Simons Island beach wedding's just as you imagined it.
Presidential Pathways Region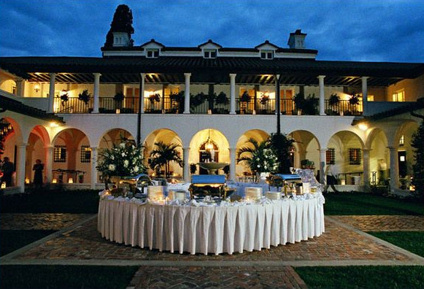 Since it originally opened its doors over 115 years ago, The Windsor Hotel has been the epicenter of weddings and social events in Americus.
The tradition of elegance and grandeur live on in the most elegant ballroom in Americus with unique features like antique chandeliers, 20-foot ceilings, original tile floors, and hand-hewn woodwork.
The Historic Windsor Hotel provides the ideal location for a romantic Victorian wedding.
You could spend several days at Callaway Gardens in Pine Mountain. Callaway Gardens has a long tradition of making wedding dreams come true. Our 2,500 glorious acres of natural beauty offers an endless array of possibilities to ensure that your wedding is the most memorable day of your life.
World-renowned gardens surround a variety of ballrooms and reception areas to accommodate wedding parties of up to 300 people.
Seasoned wedding professionals at Callaway Gardens make certain that everything goes off without a hitch, from the first stage of planning all the way through to your honeymoon.
The unique natural setting at our Georgia resort and spa encourages your guests to relax and enjoy first-class accommodations in a luxurious southern environment. In addition, there are many wonderful recreational activities, including championship golf, fishing, hiking, biking, and seasonal water activities.